I haven't been a part of too many meetings where everyone was on the same page almost at the beginning. But that was exactly how the first meeting went when the Zoo Crew was discussing what we wanted to do at the 2013 PGA Show.
There were two things we definitely wanted to accomplish above all else:
Make the environment bright and inviting
Let's celebrate product and innovation unlike anything we'd ever done
Making the environment bright and inviting
Making the environment bright and inviting was important to us because it really was a radical departure from where we'd been, when our presentation was almost the polar opposite—dark and exclusionary.
As the weeks went on, the notion of being "bright and inviting" started to get more focused and we started to throw around different goals. How can we really show that we are moving in a direction that is all about the golfer and the fans of our company and our products? What would be ways that would make everyone feel that the golfer/fans were critical to this experience? How could we show a visual representation of our commitment to the Sphere of Influence?
And then it hit us like a lightening bolt.
What if the words from the golfers were literally part of the actual infrastructure of the booth? What if the golfer actually became the booth and everyone inside and outside would feel their voices louder than anything else in the whole convention center? What if these voices weren't just a sign or a video monitor, but were the entire booth itself? So @callaway_jrod and his team went to work…
A Celebration of product and innovation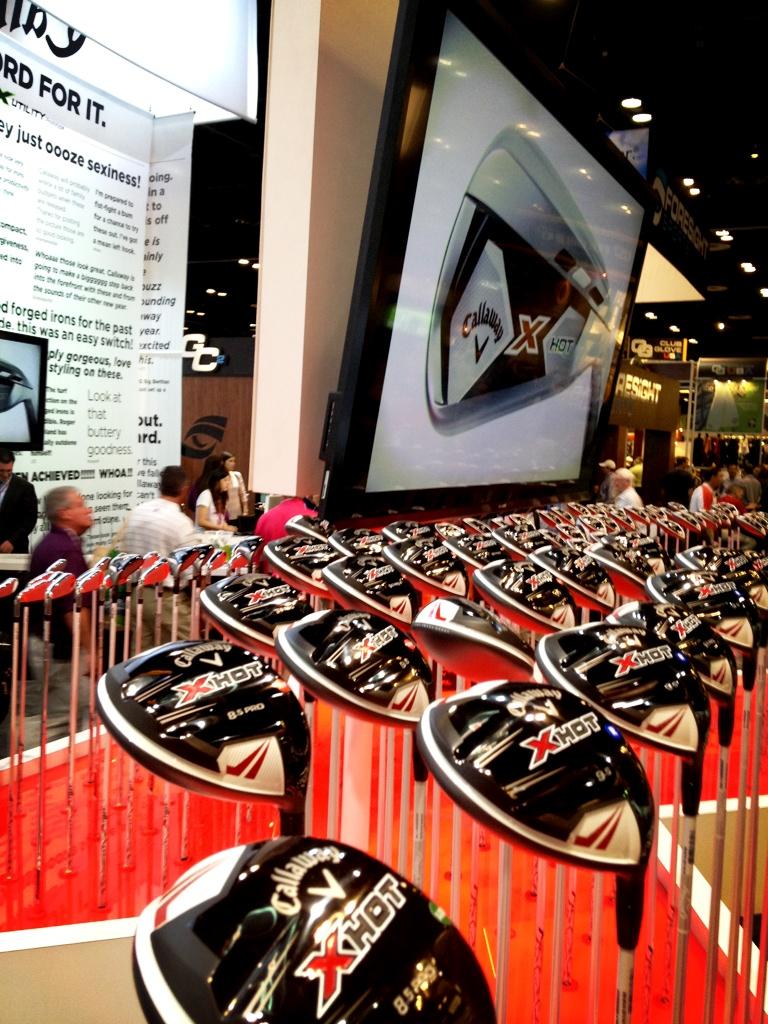 At our essence, Callaway is a product company. We invest more in club R&D than any other golf company on the planet. We are committed to product performance and innovation and delivering that performance to golfers. How could we celebrate that and make it accessible and engaging for everyone coming into our area? How can we show the grizzled show veterans that we aren't just trying to jam new products down their throats but are willing to put our performance money where our collective mouths are?
How could we make our products and new Tour players be larger than life.? And not just be a little larger, but the biggest product and Tour images in the entire building? 50 feet high? 100 feet high? 1000 feet high? Okay, maybe just 30 feet high…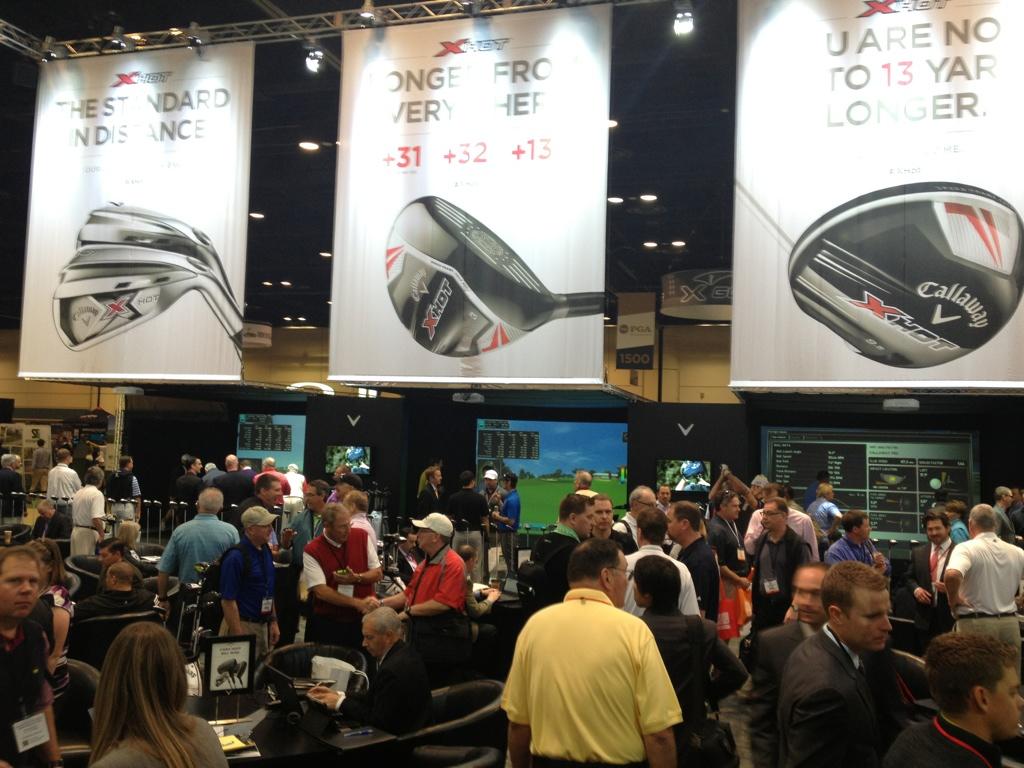 And let's let golfers hit the product in our area. We'd need some simulators for that one. Check.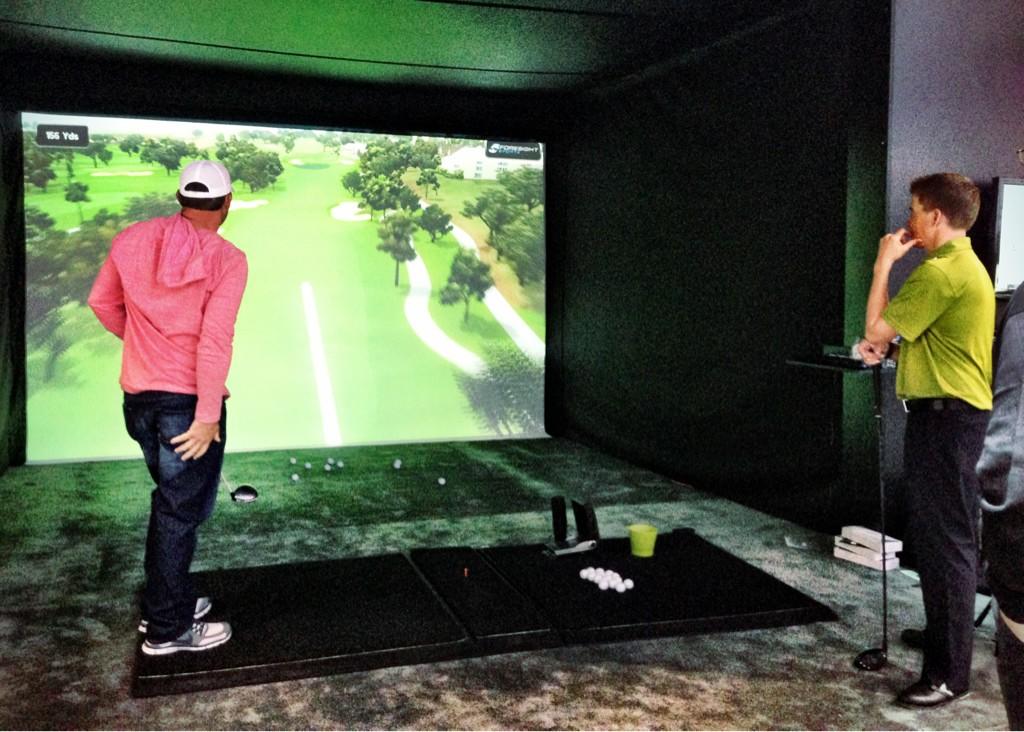 How could we make Odyssey be the most engaging putter experience in golf? How could we let people know that Odyssey isn't just a product range in our line but is the biggest and most innovative putter brand in the world? How could we show the technology of Versa and the visual alignment revolution that Odyssey is bringing? What if the putter itself projected the face angle onto the floor so you could see it working?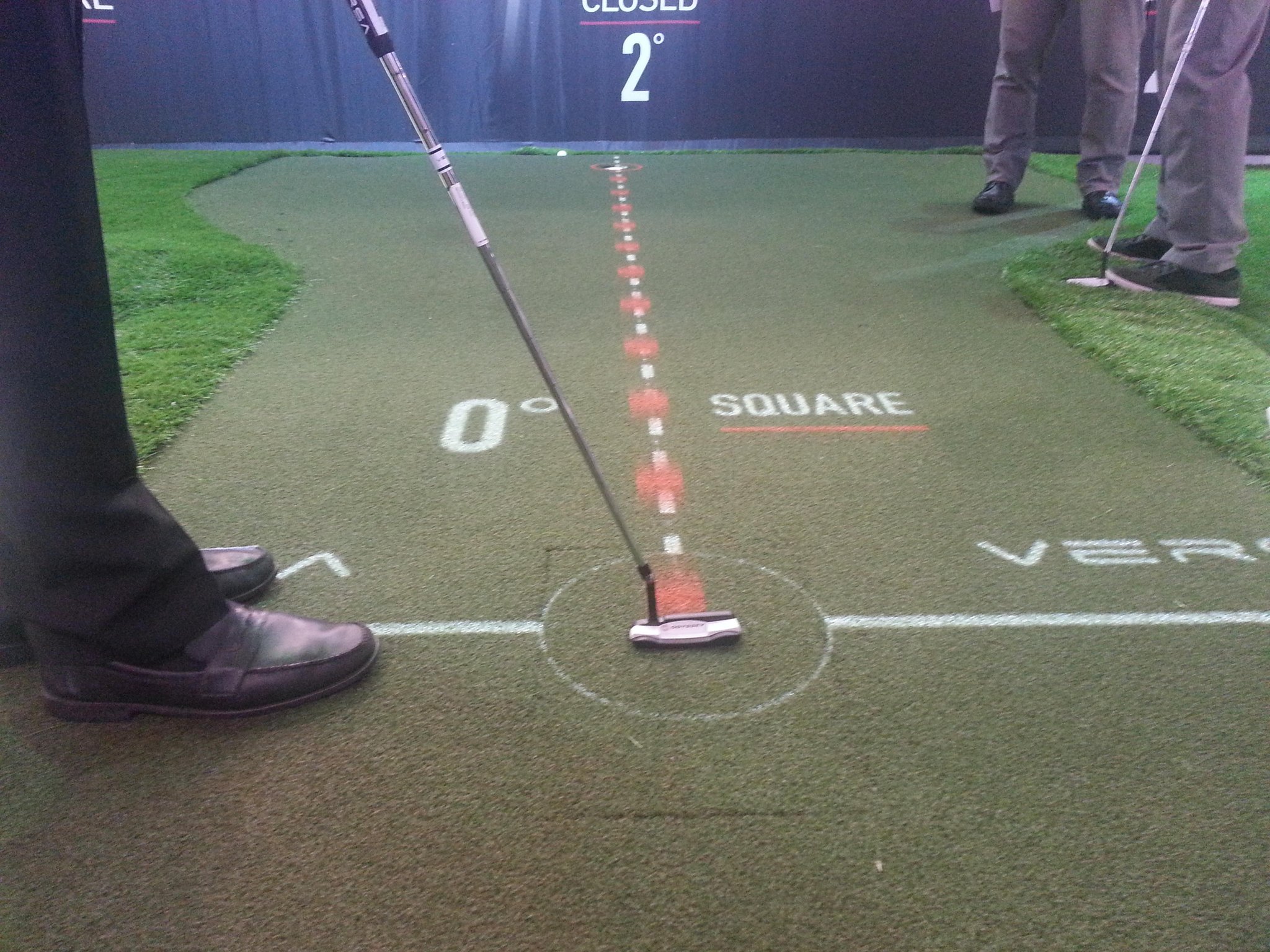 Okay, let's make that happen somehow.
Bombs, Bombs, Bombs
The final touch was bombtastic (horrible, horrible word, but so many people said it at the show that I need to embrace it). Our virtual college mascot of superior feats of driver performance, the XBomb, needed to be out front and center. So we made a giant XBomb and hung it out over the entrance. It was meant to almost be how a college mascot would behave: I'm fun, I'm cool, I'm cartoonish, but I really, really, really want to kick your butt up and down the field. That's the attitude of the XBomb. It #bringsit
We were so excited to show people the New Callaway as represented by our show experience. We were particularly proud to hear unanimously from everyone how it represented a loud, unique, resonant voice in golf's pantheon. Outsiders were excited that we were doing things our own way, not trying to be someone else or some other competitor. Insiders had a spring in their steps that has been missing for a while. The #fiveyearwar to fight against the system1 thinking and past behaviors of our company is being waged and being waged aggressively and enthusiastically.
And the best part is, we're just getting started…
Let me know what you think.
Harry
@callaway_harrya
For more on our week at the 2013 PGA Merchandise Show, check out this review from Golfwrx.com.
Epilogue
I've said it before and I'll repeat it here. In the past few months, I've had personal interactions of some variety (twitter, email, golf forum, facebook, in person, etc) with literally thousands of golfers. It's been overwhelming and one of the highlights of my life, not just career. And one thing that still puzzles me is how does one address the new friends one previously only knew on twitter and the communities?
I have all these new golf buddies like Ouzo, Golfware, Robopti, FanofRockyTop, Puttin2theMax, JJGDYR, Turbosnake, J13, Discvrstlouis, Knudson, Freshgrooves, ladahl, hayzoos? Seems kind of weird to call them that, as if it's some sort of admission that I'm still in my basement in my underwear on my computer. Wait, did I just admit to that?