Chrome Soft
Free Ground Shipping On All Orders
+ Free 2-Day Shipping On Orders Over $200

Chrome Soft
Free Ground Shipping On All Orders
+ Free 2-Day Shipping On Orders Over $200

Committed to Quality || Callaway Chrome Soft
From cover to core, we are committed to creating the most quality and highest performing tour ball in the game.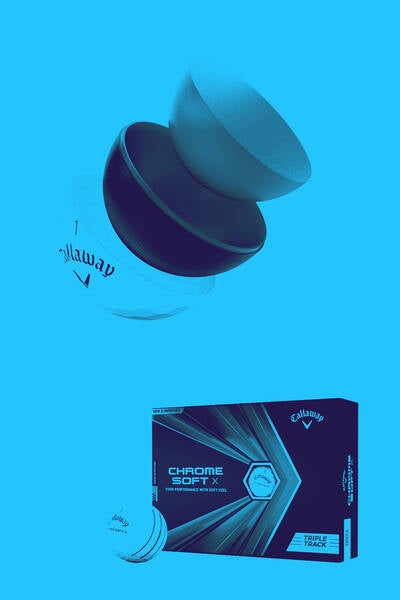 The New Chrome Soft X. Revisiting Ep. 119: Which Chrome Soft is right for you?
The New Chrome Soft X is here! In this episode of the Fitting Room, Nate and Jason Finley revisit the 2020 Chrome Soft and Chrome Soft X product deep dive episode.
Sometimes Everything Just Lines Up || Triple Track Technology
We took Triple Track to the next level and added it to @Odyssey Golf putters. This design utilizes Vernier Hyper Acuity to drastically improve your alignment for better putting accuracy. Better alignments equals more made putts.
How We Made The NEW Chrome Soft 2020!
Becoming the fastest growing major golf ball brand wasn't enough… we blew it all up and reinvented Chrome Soft, a revolution in golf ball innovation.
The Ball That Changed A Town
The Story of the Chicopee Golf Ball Plant. This 30 minute documentary explains how one of the first golf ball manufacturing facilities in the world has managed to completely re-invent itself under the ownership of Callaway Golf to create the most modern ball production in the world; securing hundreds of local jobs in the process.
Chrome Soft 2020 | This Ball Changes Everything
We've reengineered every aspect and element in the Chrome Soft for more speed and longer distance. Chrome Soft takes Tour performance to another level. Experience the next generation of Chrome Soft for yourself 3.12.2020.
The Science Behind Callaway's Revolutionary Triple Track Technology
With the help of Dr. Carl Bassi and Ray Barrett, Callaway has created an alignment aid that has revolutionized the golf ball. Go behind the design and find out what went into the development of Triple Track Technology found on ERC Soft and Chrome Soft X.